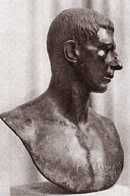 There appears to be substantial confusion over the Cato Institute's name: many people think it stands for something, and should be written CATO. In fact, it's just "Cato" (although the Institute's logo does use all capital letters).
The Institute is named after Cato's Letters, a series of classical liberal papers written by Trenchard and Gordon, who used the pseudonym Cato in honor of Cato the Younger, the stalwart defender of republican Rome. Cato, along with Pompey, fought against Caesar in the Roman Civil War. When it became clear that Caesar would be victorious, Cato retired to his rooms and stabbed himself in the gut with a dagger. The wound was not fatal, and a surgeon was called to sew him up, but when the surgeon left and the family let him alone to rest, Cato tore open the stitches and ripped out his intestines with his hands rather than live in a Rome governed by Caesar's dictatorship.
He became a symbol of republican virtue for the American patriots. Joseph Addison wrote a play about him, which became George Washington's favorite play, and a line from it was quoted by Nathan Hale when he was executed by the redcoats as a Patriot spy: "I regret that I have but one life to give for my country."