While in D.C. this weekend, I managed to get to see the Frederick Douglass house, which is about a fifteen minute walk from the Anacostia Metro station.
Douglass bought this house after being appointed Marshal for the District of Columbia by President Hayes, and lived here for the rest of his life, with his first wife Anna Murray Douglass and his second wife, Helen Pitts Douglass.
Helen was a white woman, and Douglass' children were so opposed to the marriage that when Douglass died, they had the will in which he left her the house declared invalid, and she was then forced to buy it from them, hoping that the home would be preserved as a monument like Mount Vernon. The fortunate consequence is that most of the belongings in the house, including the books in Douglass' office, are authentic.
Here's me (wearing my Ayn Rand t-shirt) standing in Douglass' office, where he wrote, among other things, The Life And Times of Frederick Douglass.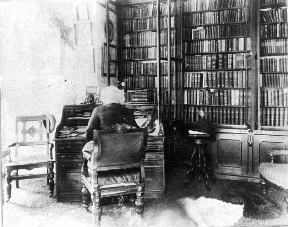 (This photostream has some better pictures of the house.) Douglass had a little shed in the back that he called his "Growlery," where he'd retire when he was in a nasty mood or wanted to be left alone. It seems likely to me that he actually wrote that book here. (This is a reconstruction.)
Also in D.C.—behind the capitol building—is another Douglass house, where he lived for three years prior to moving to Cedar Hill. That one also has a museum, but it wasn't open while I was there; tours are available only by appointment.