Bill Moyers today posted a list of "ten lies that made American history." Some people enjoy emphasizing the "lies" of American history—and of course it is important to keep the dark side of our past in mind, and to remember how crucial skepticism is in a democracy. On the other hand, reverence is important, too, and an overemphasis on "the lies" can mislead, and can feed an ugly character trait: the self-flattering notion that you're far too smart to fall for idealism.
Of course, our history and culture have also been profoundly shaped by great truths—and telling those truths often took far more courage than the opposite. At this time of year, especially, it's worth pausing to think about ten great truths that changed, and continue to change, the United States.
10. Ronald Reagan: The Soviet Union is an evil empire
Ronald Reagan took no end of abuse for calling the Soviet Union an "evil empire" in his March 8, 1983, speech to the Evangelicals. In fact, he was right. The Soviet Union was among the bloodiest dictatorships in human history, which not only deprived millions of basic human rights—imprisoning dissidents, massacring undesired populations, censoring speech, collectivizing property—but was indeed bent on world domination.
9. Prohibition is a bad idea
"In the principle of Prohibition lies the germ of collective tyranny from which may arise every species of intolerance and despotism—an intolerative principle as far removed from the principle of American liberty as heaven is from hell, and as different in every essential from the spirit of republican government—a true democracy—as the breath of the polar iceberg is different from the blaze of the equatorial sun!" —Lulu Wightman, The Menace of Prohibition (1916)
Lulu was right. Prohibition destroyed lives; led to smuggling, gangsterism, and police violence; denigrated constitutional protections against search and seizure, and didn't cure alcoholism. Worse, it made the income tax a permanent feature of American life. Fortunately, it was repealed only 13 years later. The War on Drugs—whose effects are vastly worse—is now in its 43rd year.
8: Censorship destroys ideas
Raphaelle Peale's Venus Rising from The Sea: A Deception (1822) appears at first to depict Venus behind a towel on a clothesline. Look closer and you realize Peale has painted a handkerchief pinned over the nude—a sly commentary on censorship. Despite American's centuries-old commitment to freedom of speech and of the press, censorship has been a sadly common feature of our history. The first book banned in America was probably John Cleland's Fanny Hill (1748), which, when it was banned again, was also the subject of the famous Supreme Court case, Memoirs v. Massachusetts (1966). As the Supreme Court said in a later decision, the main problem with such censorship is that it assumes that because material should be kept out of the hands of children, we all should be treated as children, and have the same things kept from us. Fortunately, decisions like Memoirs have expanded constitutional protections for speech and expression and for the most part left each person free to decide for himself what to read, say, write, sing, and watch.
7. Frederick Douglass: those who would be free must themselves strike the blow
Douglass loved to say in his speeches that despotism never yields by itself—freedom isn't given; it must be taken. He demanded that blacks be allowed to join the army to put down the slave power, and that they be paid equally. After the war, he insisted that the freedmen have the right to vote, and the right to possess firearms for self-protection. Citizenship, he said, depended on the three boxes: the ballot box, the jury box, and the cartridge box.
He was right: when the north abandoned Reconstruction in the 1870s, essentially sentencing blacks to another century of slavery, one of the first steps southern states took was to disarm the black population—and another was to disenfranchise them. Although Martin Luther King would become famous for his non-violent protest tactics in the 1960s, other civil rights leaders rightly insisted that black southerners had the right—indeed, the obligation—to defend themselves against the Klan and its supporters, with guns if necessary, and with votes whenever possible. When freedom came, it came not as a gift from whites, but as a victory wrested by black leaders.
6. H.L. Mencken: the New Deal is a fraud
Americans didn't want to hear it when H.L. Mencken thundered against the New Deal in the pages of the American Mercury. Although he had been one of the foremost writers and thinkers of his day, readers deserted him, and in 1933 he was forced to retire and write his memoirs (which restored his popularity). But Mencken was right: even the political left now largely admits that the New Deal did not work. It hampered recovery by imposing a series of nationwide cartels and destroying wealth in order to purposely drive up prices. Much of this was rightly held invalid by the Supreme Court, but the violence done to the Constitution in the meantime has lasted, and the New Deal bureaucracies have only continued to grow. But the worst parts of the New Deal were abandoned forever, and the experience helped teach a generation of Americans to distrust government cure-alls.
5. John M. Harlan: The color-blind Constitution
"There is in this country no superior, dominant, ruling class of citizens. There is no caste here. Our constitution is color-blind, and neither knows nor tolerates classes among citizens. In respect of civil rights, all citizens are equal before the law. The humblest is the peer of the most powerful. The law regards man as man, and takes no account of his surroundings or of his color when his civil rights as guaranteed by the supreme law of the land are involved." –John Marshall Harlan, dissenting in Plessy v. Ferguson (1896)
The evils of racism have long been a cancer on American society—from slavery to Jim Crow, from the Trail of Tears to Manzanar. Yet the Constitution promises us all the equal protection of the laws. Although thousands still deny it—even Supreme Court justices—the nation's highest law gives no quarter to those who would judge us by the color of our skins, and discriminate against us or grant privileges to us, based on what our ancestors looked like. Equal justice under law is what we're promised, and equal justice under law is what we deserve. Justice Harlan was alone in his Plessy dissent. But within a lifetime of that dissent, segregation would be struck down, and black Americans would serve in Congress, in the White House, and on the Supreme Court itself. And Justice Harlan's dissent would make him a hero to generations of civil rights lawyers.
4. James Madison: government cannot be trusted
"It is in vain to say that enlightened statesmen will be able to adjust these clashing interests, and render them all subservient to the public good. Enlightened statesmen will not always be at the helm.... If angels were to govern men, neither external nor internal controls on government would be necessary. In framing a government which is to be administered by men over men, the great difficulty lies in this: you must first enable the government to control the governed; and in the next place oblige it to control itself." –The Federalist (1788)
Americans designed a Constitution to protect them against government, and leave them free to pursue their own happiness. Madison and his fellow framers understood that while people can be very smart and good, none of them is smart enough or good enough to run the life of another person. They designed a constitutional structure that enjoyed great strength and flexibility when necessary—but which featured a tense machinery of checks and balances to prevent unwise ideas and dangerous leaders from destroying liberty. However often it's been denounced, and however often it's been betrayed, their basic skepticism toward government is alone responsible for protecting America's liberties from some of the horrors that enveloped the world in decades past.
3. Ayn Rand: I don't exist to make other people happy
Still controversial after all these years, Ayn Rand had one basic ethical point to make: your life is your own, and not anyone else's—so make the most of it. As a Russian woman who escaped Soviet tyranny to pursue her dream of being a writer, she found in America the land of opportunity that allowed her to do just that. She believed the essence of the American character was the self-directed, independent creator—the artist, the architect, the visionary, the engineer, the industrialist, the capitalist—who built as a way of saying yes to life. Most profoundly, she was an individualist—and believed that what had made America great was both the freedom it gave people to be what they could be, and the culture in which innovation and discovery were admired and rewarded.
"America is the land of the uncommon man," she wrote. "It is the land where each man tries to develop whatever quality he may possess and to rise to whatever degree he can, great or modest. It is not the land where one glories or is taught to glory in one's mediocrity. No self-respecting man in America is or thinks of himself as 'little,' no matter how poor he may be." She was right—recently, social scientists like Dierdre McCloskey have written extensive research on the crucial role that the "bourgeois virtues" play in building a healthy, prosperous, and free society.
2. Am I not a woman and a sister?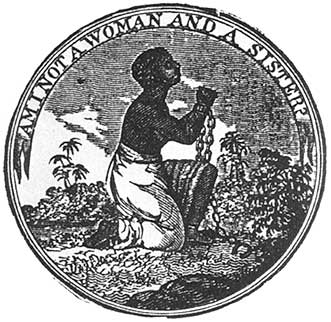 Since before Abigail Adams, American women have demanded and deserved an equal place at the table. They protested the senseless discrimination that robbed the country of half of its intellectual and moral resources, and demanded the freedom to make their own choices. While there's still progress to be made, it's sometimes easy to overlook just how far women have come in just the past half-century. Today women outnumber men in colleges, and hold important posts in society, business, and government that their mothers could hardly have imagined. America obviously didn't invent feminism, but from the days of Seneca Falls, women have known that the equality of the sexes was rooted in America's greatest idea.
1. All men are created equal
The fundamental principle—the sheet anchor of our republic, as Lincoln called it—is the self-evident truth that all men are created equal. No person has any inherent right to control the life of another. Instead, we are all humans, as much in charge of our own lives as our neighbors are of theirs. Or, as Jefferson put it in his last letter, none of us is born with saddles on our backs, and none is born with spurs on. That means that we're all basically free, and nobody else has a right to take away that freedom unless they prove some good reason. This basic presumption in favor of freedom—that freedom is our birthright, and not just a privilege that the ruler gives to us, and not to be taken away without some justification—was the greatest innovation of the founding fathers.
In 1776, it was a controversial idea, and it was still controversial in the 1860s, when antislavery forces rallied to the Declaration when denouncing the "peculiar institution." Lincoln rightly saw that what slaveowners really wanted was for the nation to jettison this basic principle: the south would not be happy, he said, until we "cease to call slavery wrong, and join them in calling it right." But that was the one thing the union must not give them. He was right, as Confederate Vice President Alexander Stephens made clear. "Our new government," he told his supporters, "is founded upon exactly the opposite idea; its foundations are laid, its corner-stone rests, upon the great truth that the negro is not equal to the white man."
Lincoln's refusal to concede the moral equivalence of slavery and freedom—his refusal to compromise on calling slavery wrong—is an instance of the most important thing Americans have ever done, and the one thing they must never cease to do; the thing that Reagan did in calling the USSR an "evil empire" over a century later: to always insist on the moral superiority of liberty.
It's still a controversial idea today. But it is the truth.